"We do things the ole' fashioned way, and that's the way we like it"!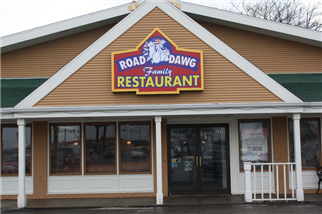 ROAD DAWG has been cooking and baking comfort food since 2007. It is our passion to provide you, our guest, with an exceptional customer experience and a delicious, made from scratch meal. From our friendly, caring wait staff to our top of the line cooks and bakers, you will receive the best that we have to offer at an unbeatable value.
Every member of the ROAD DAWG family is committed to exceeding your expectations in service, quality and experience. Here, at ROAD DAWG, you will experience a sense of family that just cannot be found anywhere else.
PATTI J VANCE and her staff share years of experience in the restaurant and customer service industries. They are passionate about YOU and will guarantee that you receive an outstanding experience from beginning to end.
We love our customers and invite you to leave your feedback and suggestions. Use our CONTACT US page to tell us what we're doing right or what you feel we can improve on. We are always listening to YOU!
"Where Good Friends Meet"
OPEN

7 DAYS A WEEK
6AM - 8PM
Serving Breakfast all day
Content, including images, displayed on this website is protected by copyright laws.
Downloading, republication, retransmission or reproduction of content on this website is strictly prohibited.